Crime: Graverobbing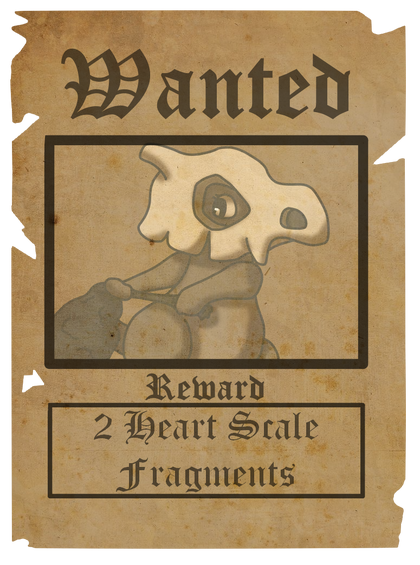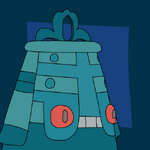 : While we wouldn't have a problem with savaging around for bones if they were ones left by feral Pokemon, this Pokemon has an odd obsession with digging up bones from graveyards. These are are the bones of citizens' ancestors, so this is unacceptable behavior that needs to be stopped.
Species: Cubone
Gender: Female
Age: 23
Race: Khetmaat
Characteristic: Very finicky
Nature: Quiet

Personality: Rarely talks, so it's hard to understand what her motivations are or what she finds so interesting about her collection. We can only assume for the moment it has something to do with her species. You can try to reason with her, as she doesn't seem inherently violent, but don't expect a lot of talk from her. When she does open her mouth, you should watch out for her Perish Song.
History: As far as we can tell, this bone stealing behavior is long running. We have reports of a bone stash somewhere out in the forest that belongs to her, but we've been unable to locate it. As such, we can't really say what the bones are being used for beyond just a collection. Rather creepy if you ask me, but it's only illegal for her to be digging up graves.
Move Set:

Dig - The user burrows underground to hide, then reemerges to attack.
Bone Club - The user attacks by whacking a foe with a bone.
Detect - By detecting an incoming attack, it can be dodged without fail. When used in succession, its chance to fail increases exponentially.
Perish Song - A hollowing song that effects anyone hearing it, causing them all to faint in a short period of time unless treated.

Non Required Information

Abilities:
Battle Armor - Natural armor on this Pokemon prevents receiving critical hits.
Approximate Height: 1' 1"
Ad blocker interference detected!
Wikia is a free-to-use site that makes money from advertising. We have a modified experience for viewers using ad blockers

Wikia is not accessible if you've made further modifications. Remove the custom ad blocker rule(s) and the page will load as expected.