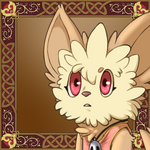 Name: Rosamir "Rose"
Title: Castle Servant
Nation: Gailamir
Species: Lillipup
Age: 18
Birthday: -
Characteristic: Likes to Relax
Nature: Timid
Move Set:
Baby-Doll Eyes
Tackle
Fire fang
Attract
Family:
Mother: ??? (Deceased)
Father: Hilderic (Deceased)
Betrothed: Tullius
Rather shy and reserved. Rose tends to be very quiet and well mannered. She wouldn't hurt a fly.
Biography
Edit
She is a servant who works at Alaric's castle. She spends most of the day sweeping the ancient castle floors and if not, she can be found at the castle garden conversing with a Voluntian friend of her's. She traveled away from her previous kingdom, and if asked why she claims that it was no longer the home she remembered it to be.
Ad blocker interference detected!
Wikia is a free-to-use site that makes money from advertising. We have a modified experience for viewers using ad blockers

Wikia is not accessible if you've made further modifications. Remove the custom ad blocker rule(s) and the page will load as expected.